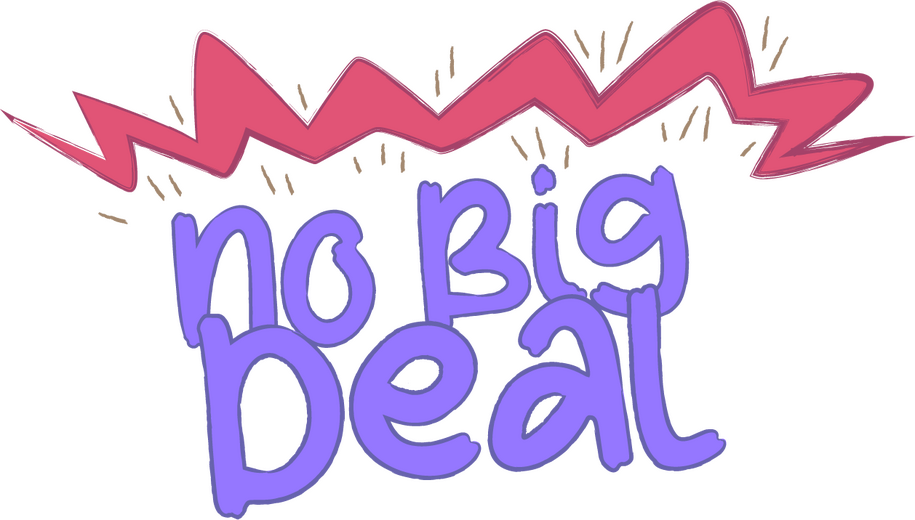 No Big Deal
No Big Deal - Amphibia's Fan Zine
This Fan Zine is a project to celebrate the third anniversary of Amphibia, create by Matt Braly.노 빅 딜 - 앰피비아 팬 진
이 팬 진은 맷 브렐리 감독님의 작품인 앰피아의 3주년 기념 프로젝트입니다.Status : All donated, Finished
현황 : 기부 완료, 종료
Schedule
| Title | To | End |
| --- | --- | --- |
| Interest check | 2022 Feb 5th | Feb 9th 7am pst |
| Contributor Applications Open | Feb 10th | March 10th |
| Results Email send | . | March 18th |
| Check 1 | . | May 8st |
| Check 2 | . | May 22nd |
| Final Check/Dead Line | . | June 2th |
| Pre-Orders | June 17st 0am est | July 17th 0am est |
| Start producing | 20th | TBA |
| Ship out | TAB | |
| 내용 | 시작 | 끝 |
| --- | --- | --- |
| 수요조사 | 2022 2월 5일 | 2월 10일 |
| 참여 폼 열람 기간 | 2월 10일 | 3월 10일 |
| 결과 이메일 발송일 | . | 3월 18일 |
| Check 1 | . | 5월 8일 |
| Check 2 | . | 5월 22일 |
| 마감일 | . | 6월 2일 |
| 예약 주문 | 6월 17일 13시 | 7월 17일 13시 |
| 상품 제작 기간 | 7월 20일 | 미정 |
| 배송 시작 | 미정 | |
About
No Big Deal Zine
Disney Amphibia Fan ZineIllust Fan Zine
A5 Size, 40 pages with arts and comicsMerch
- Anne Phone Set(5 Maine Photo Card, 33 Rainbow Character Cards)
- Sasha Phone Set(1 Maine Photo Card, Tin case, 10 Sword Clips)
- Marcy Phone Set(1 Maine Photo Card, 20 Stickers, 1 Memo Pad)
- Acrylic Key Chain(Double Side)
- 2 A5 Mini Print
- 3 Lenticular Card
- 3 Enamel pins
- Concert Ticket
- Large Polaroid
- Hair ScrunchMore items will be on Stretch Goals!Domestic(Korea), International Shipping
디즈니 앰피비아 팬 일러스트 북
일러스트 팬 진
A5 사이즈, 40매(표지 별도)굿즈 패키지
- 앤 폰 세트(표지 포토 카드 5장, 글라스 홀로그램 코팅 캐릭터 카드 33장)
- 사샤 세트(표지 포토 카드 1장, 틴케이스, 칼 모양 종이클립 10개)
- 마르시 세트(표지 포토카드 1장, 스티커 20개, 떡 메모지 1개)
- 양면 아크릴 챰
- A5 미니 프린트 2개
- 렌티큘러 카드 3개
- 금속뱃지 3개
- 콘서트 티켓
- 폴라로이드
- 곱창 머리끈판매당 증정되는 목표에서 더 많은 상품들이 공개됩니다!국내외 배송
---
Mods
Potin(포틴)
Head Mod
Graphic/Shop Manage/Production/Shipping
Carrd / Twitter / Instagram
LTreat
Graphic Mod
Spotlights, Other Graphics
Carrd / Twitter / Instagram
Kiliwana(킬리와나)
Translation Mod
Twitter / Tumbler
Kahari(카하리)
Zine Production Mod
Twitter / Instagram
All contributors
GuestsDia - Cover Artist | TwitterOuter-Stars - Page&Merch Artist | Twitter / Instagram
Jally - Page Artist | Twitter / Instagram
themissakat - Page & Comic Artist | Twitter / Instagram / Tumblr
Bee - Comic Artist | Twitter / Instagram
Cinna - Merch Artist | Twitter / Instagram / Tumblr
Grav - Merch Artist | Twitter / Instagram
reese - Merch Artist | Twitter
Sunati - Merch Artist | Twitter / Instagram|990(구구공) - Page&Merch Artist | Twitter
5D(오디) - Merch Artist | Twitter / Tumblr
AstraSoda - Page&Merch Artist | Twitter / Instagram
Casey - Merch Artist | Twitter / Instagram
Claus - Page Artist | Twitter / Tumblr
Cyn - Page&Merch Artist | Twitter / Instagram
Darya - Page Artist | Twitter / Instagram
Galppang(공갈빵) - Page Artist | Twitter / Instagram
Ivy - Comic&Merch Artist | Twitter
Ivy - Merch | Twitter / Tumblr
James - Page&Merch Artist | Twitter
Jayden(받두) - Page&Merch Artist | Twitter
Jun - Merch Artist | Twitter
JY - Page&Merch Artist | Twitter / Instagram
Tumblr
Kyu - Page Artist | Instagram
MARIPOSA(마리포사) - Page&Merch Artist| Twitter / Instagram
mynthae - Merch Artist | Tumblr
pirini - Merch Artist | Twitter / Instagram
Quitto(끼또) - Merch | Twitter
raspbi - Merch Artist | Twitter / Instagram
Rocky - Merch Artist | Twitter / Instagram
Sam - Page&Merch Artist | Twitter / Instagram
Shelby - Merch Artist | Instagram
skyblob - Merch Artist | Twitter / Instagram / Tumblr
Sockopunch - Merch | Instagram
SteamedBuns - Comic Artist | Twitter / Instagram
Talia K - Merch Artist | Twitter / Instagram / Tumblr
Vinnie - Merch Artist | Twitter
Wren - Merch Artist | Twitter / Instagram
Yana - Merch Artist | Twitter / Instagram
Zkye - Comic Artist | Twitter / Instagram / Tumblr
F&Q
What is a Zine?
A magazine with great art with character(s). Zines bring together talented illustrators, creators together to showcase their work.
This Zine is Amphibia Zine, so Amphibia characters are in it.I want to know the Schedule
Please check the Schedule page! Schedule can be change on the future.Will the Zine made with PDF too?
No, We only make physical book for sale.This Zine make a profit?
This project is for Charity! We'll donate all profits on Green peace which who work to improve nature.How do you produce it, where do you sell it?
The Mod team places an order directly to the company/factory that will make the product. Sales will be made and sold only for this project. Payment can only be made through PayPal.We'd like to know the Zine composition and prize!
Zine's sales units are expected to be divided into six. More information will be update!팬 Zine이 무엇인가요?
여러 팬들이 모여 만든 하나의 팬 잡지로, 국내에서는 주로 회지로 불립니다. 색이 인쇄되는 책으로 제작됩니다.스케쥴을 알고 싶어요.
상단의 스케쥴 버튼을 눌러 스케쥴을 확인 해주세요. 일정은 변동될 수 있습니다.Zine은 PDF파일(디지털)로도 제작되나요?
아니요. 오로지 실물로만 판매됩니다.Zine은 수익을 남기나요??
아뇨, 하지만 모든 수익을 그린피스에 기부 예정입니다!상품 제작과 판매는 어떻게, 어디에서 진행되나요?
스탭팀이 상품을 만들 회사/공장에게 직접 주문을 넣습니다. 판매는 이 프로젝트만을 위한 샵을 만들어서 판매 될 예정이며, 국내 한정 무통장 입금 결제 또한 가능하도록 통합 샵을 찾거나 따로 분류하여 판매 할 예정입니다.Zine의 판매 단위 혹은 금액을 알고싶어요!
Zine은 굿즈와 함께 약 6가지의 구성이 진행될 예정입니다. 금액등 추가 상세 정보는 추후에 업데이트 예정입니다.